For the granulation of small sprues up to large faulty part we offer the suitable machine size from a closed product range.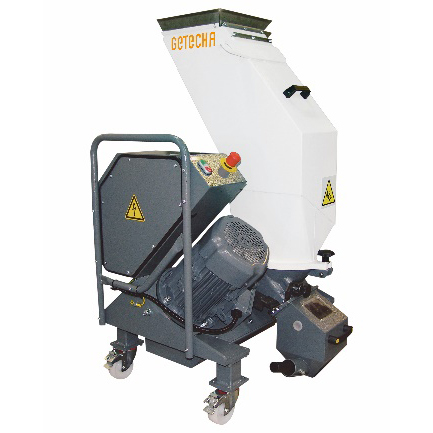 The beside the press granulator GRS 180 with its angled rotor ensures uniform and continuous granulation. With wear package, the low-speed granulator als cuts highly filled engineered plastics – proven in over 10.000 applications.
The GRS 300 offers angled rotor technology in the larger version and is ideally suited for sprues from multi-cavity moulds.
For materials with low shore hardnesses the beside the press granulator RS 1615 is designed. It is characterized by a compact design and minimized space requirement.
Our beside the press granulators can also be used in a controlled area with an additional package. The package includes a sealed cutting chamber and a double flap hopper. Developed for a supplier of the medical industry, this special design has also proven its performance for surface critical injection-moulding parts for the automotive and electronics industries.
With the granulators of the following series we solve your grinding tasks in the injection moulding industry:
We do not only take care of the grinding, but also design and deliver a complete solution from conveying the parts to the handling of the regrind.