Getecha present itself at Fakuma as a granulator manufacturer and automation specialist
Equipping plastics processors and recycling companies with customised shredding and recycling solutions – that has been GETECHA's mission for many years. What this means in concrete terms and what level of process automation is achievable today will be demonstrated once again by the German plant manufacturer at this year's Fakuma in Friedrichshafen. In exhibition hall 3, the company will be using numerous exhibits to showcase the services it is currently able to cover as a system integrator and engineering partner.
Based on a broad range of expertise and many decades of experience in plant engineering, GETECHA implements energy-efficient, ergonomic and high-performance grinding and circulation solutions for use in almost all areas of modern plastics processing. In addition to manufacturers of injection moulded parts and extrusion products, users of thermoforming and blow moulding technology, as well as processors of post-consumer waste, will also be able to get an idea of this at this year's Fakuma. At its stand 3210 in hall 3, the company will be demonstrating how plastic waste can be grinded, processed and recycled close to production, sometimes in a highly automated and resource-saving manner. For this purpose, it will not only present five individually configurable granulators of its well-known RotoCutter generation, but will also provide information on design measures to reduce energy consumption as well as the possibilities of automated integration and customisation of its systems.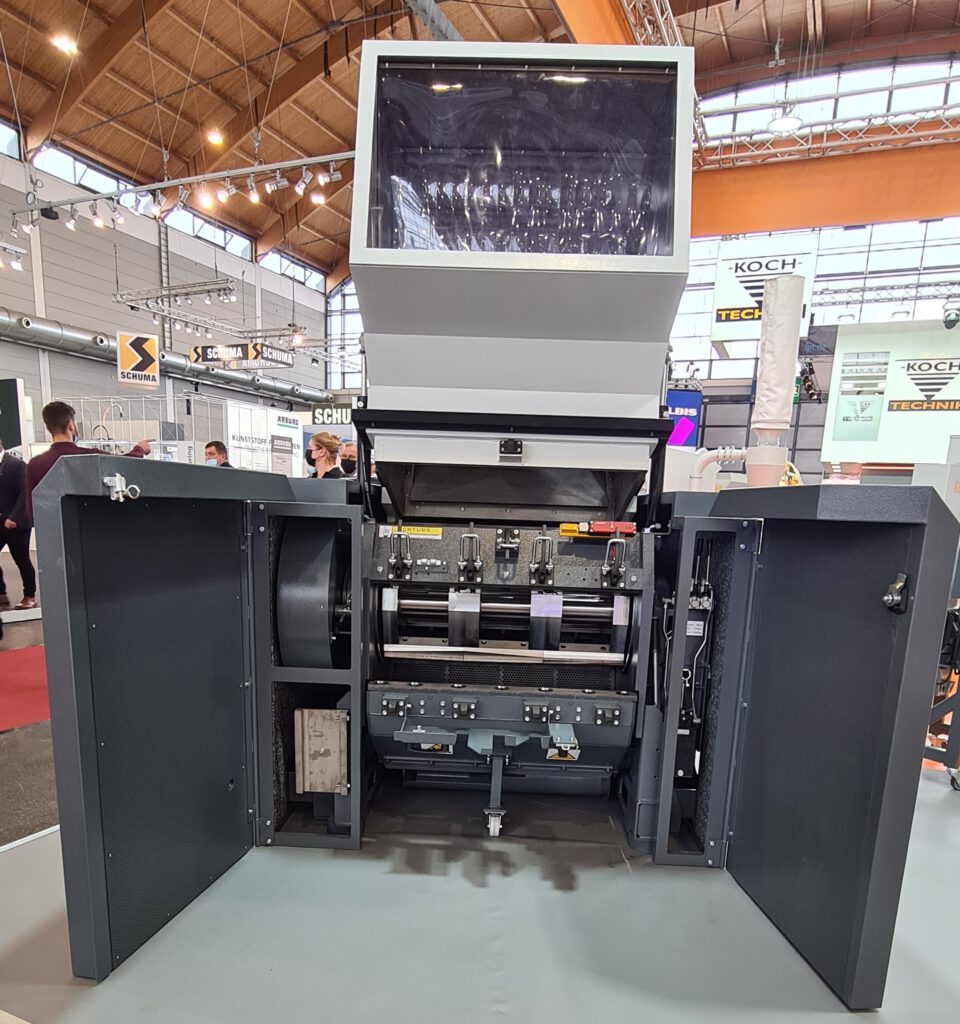 As a solution for the continuous throughput of medium to large volumes of plastic waste and residues from production, GETECHA is presenting several central granulators at Fakuma. Designed for comminution capacities of up to 1,000 kg/h, for example, is the RS 45090, which is the visual centrepiece of the company's exhibition stand on account of its size alone. Depending on the configuration, this hopper granulator can grind both missing parts and plates and pipes. For this purpose, it has several bypass hoppers as well as a 45 kW motor that drives five rows of mounted rotor blades (rotor diameter 450 mm) against two stationary blades. The screen hole diameter is 8.0 mm as standard, but can be adapted to different material properties.

The front feed hopper of the RS 45090 can be fed manually or is equipped by GETECHA with a belt conveyor as part of the process automation. For ergonomic reasons, the hopper and the entire granulator body are double-walled with integrated sound insulation. Thanks to the drive being moved upwards and into the housing, the mill is compact despite its size and takes up relatively little floor space. The fact that the opening mechanism for the hopper and the screen carriage, which can be extended on rollers, can be operated hydraulically simplifies cleaning and maintenance of the granulator.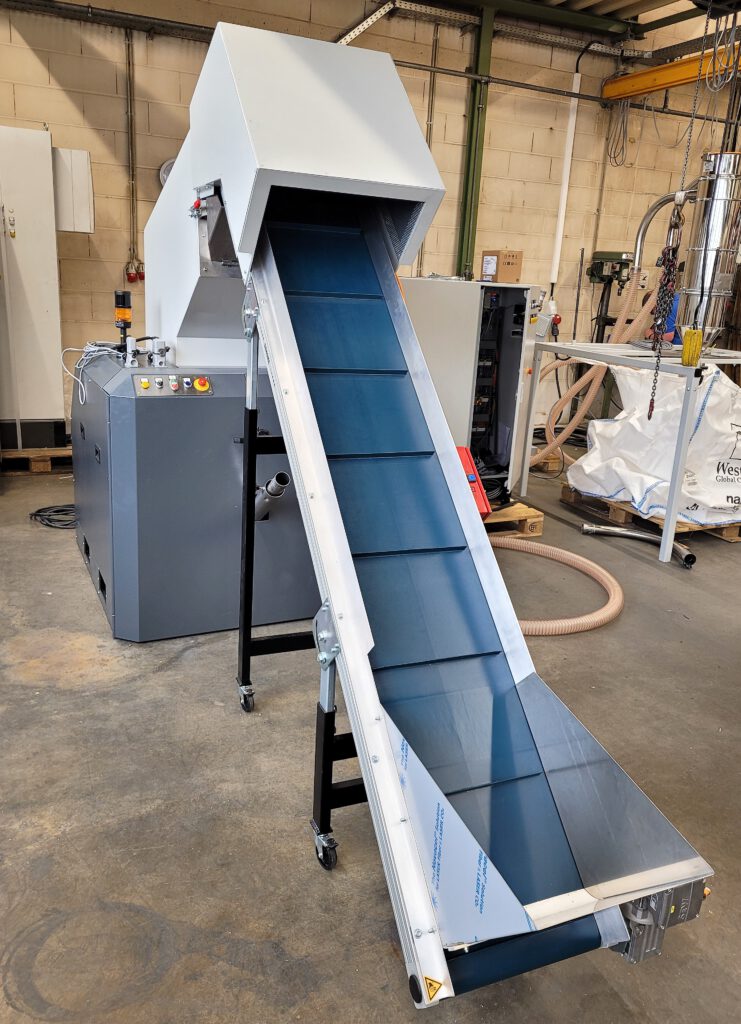 Closed or open rotor design
In many respects, the two smaller central granulators that GETECHA will be exhibiting at Fakuma are just as well equipped as the RS 45090. The first is the RS 30040, which is designed for a throughput of up to 360 kg/h with its 22 kW drive and can be seen at the trade fair in a variant for the size reduction of solid parts. It operates with a closed three-blade variation rotor with a diameter of 300 mm, in which all components in contact with the product are made of stainless steel. The cutting length here is 410 mm.
Secondly, GETECHA is presenting an RS 2404 that can be moved on rollers and whose 5.5 kW drive has an hourly throughput of up to 160 kg. This small representative of a central granulator has an open three-blade rotor with attached blades and a diameter of 240 mm. The hopper granulator achieves a cutting length of 452 mm and will be shown at the trade fair as a complete solution with integrated extraction, sound-insulated conveying blower, exhaust air dedusting and regrind dedusting system.
Mobile and flexible
GETECHA is presenting two granulators from its GRS line at Fakuma as mobile and versatile size reduction solutions for use in production. The GRS 180, which is designed as a beside-the-press granulator for processing sprues and light faulty parts, is almost a classic. It is suitable for both manual and automated feeding via the handling system of an injection moulding machine. Depending on the variant and options, its feed height can be adjusted from 800 mm to 1,320 mm. In addition, it can be optimally adapted to its environment with low or high frames as well as material containers (instead of free outlet) and hoppers for feeding via sprue picker (instead of manually).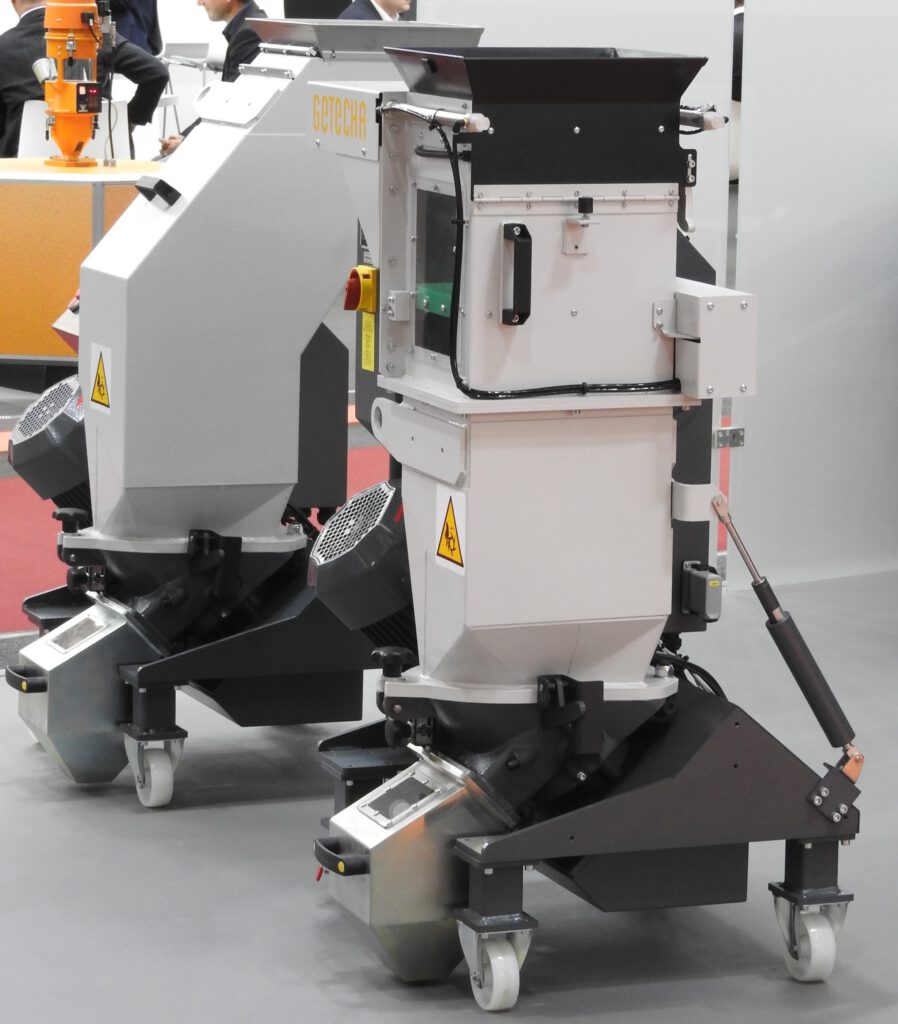 The GRS 180 exhibited at Fakuma uses a seven-blade rotor with wear-protected blades in HSS quality and is configured for connection to the customer's extraction system. Its drive technology heart is a 2.2 kW motor whose power requirement is effectively reduced to around 1.1 kW under load thanks to the GETECHA EnergySave system. The rotor variants, the drive and the blade qualities of the GRS series are always individually matched to the application. The cutting chamber can also be equipped with water cooling, which reduces the thermal load on the materials and prevents their plastification in the cutting chamber. With a fill level monitoring system, overfilling of the material container ¬- and thus a backflow into the cutting chamber – can be avoided. Warning signals and an automatically controlled suction conveyor can be used to stabilise the production process.
As a further representative of the GRS line, GETECHA is presenting the GRS 300 at Fakuma, which can be used as a small central or large beside-the-press granulator. It is also designed for the comminution of sprues and faulty parts and can be seen at the trade fair in a raised version for the free discharge of regrind into a collecting container. This hopper granulator for manual material feeding has a drive power of 5.5 kW and – depending on the material to be comminuted and the screen perforation – has an hourly throughput of up to 80 kg/h. In its cutting chamber, a ten-blade rotor with wear-protected HSS-quality blades rotates at 230 rpm against two stationary blades. The inclined rotor allows complete filling with sprues and start-up of the system even when partially filled. This granulator can also be moved on rollers. The tool-free screen change simplifies its maintenance and cleaning.
In addition to presenting its granulators, GETECHA will be addressing important factors and trends in the field of size reduction technology at this year's Fakuma. These include the question of what role a detailed requirements analysis plays or how additional savings potential can be released through the successful integration of the size reduction solution into the customer's infrastructure. The relevance of the automation of the grinding systems, their external control and the use of modern communication and sensor technology for process optimisation and operating cost reduction will also be discussed.