Aside from the implementation of highly automated material cycle systems for the plastics processing industry, the realisation of high-performance granulators has always been one of Getecha's core areas of expertise. Not long ago, for example, plastic parts manufacturer Lechner purchased two standard granulators in the successful RotoSchneider range available from the German plant engineering company. Here, you can read how this enabled the supplier to optimise its internal preparation processes at its main factory in Bad Vöslau in Austria.
Getecha's sphere of operations has recently expanded significantly into the realisation of complex and largely automated material cycle solutions for plastics and recycling technology. However, the development, manufacturing and provision of high-quality granulators for production-related use in plastics processing still remains a central focus of the company's range of services. A few weeks ago, Austrian injection moulding and thermoforming specialist Lechner turned to consultants from the company Büchler (www.buechler.at), representing Getecha in Austria and Hungary. "To optimise internal material processing in the two halls at our main factory in Bad Vöslau, we needed multiple state-of-the-art standard granulators for efficient granulation of various scrap material from component manufacture and film processing," reports Bernhard Lechner, Project Manager at the company. After extensive requirement analysis, we selected two granulators of the RotoSchneider generation from the German plant engineering company: a type RS 45090 hopper granulator and a type RS 30090-E infeed granulator.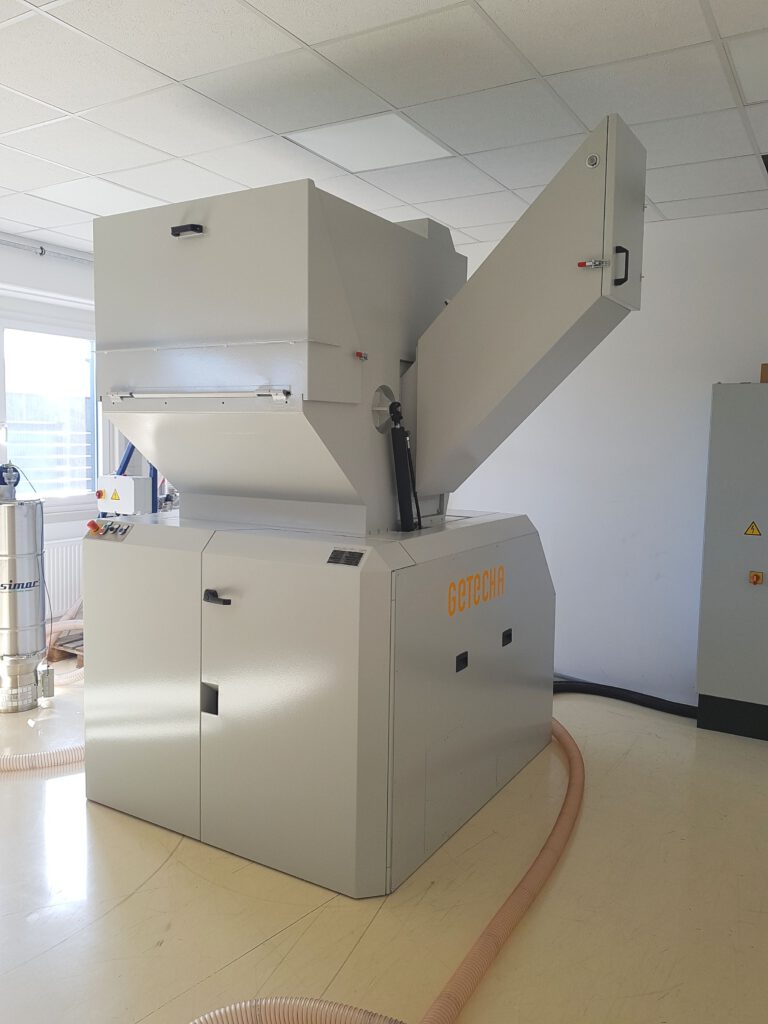 Scrap GFK not a problem
The RS 45090 hopper granulator is used at Lechner (www.lechner-kunststoffteile.at) as a central granulation station, and is located in a room in close proximity to the injection moulding lines. It has a cutting width of 900 mm and processes round, square and heavily ribbed production scrap made of various plastics and glass fibre reinforced materials with an hourly throughput of up to 900 kg. Employees continuously throw this mixed granulation material into the double-walled hopper with integrated sound insulation. To seal the opening (925 x 620 mm), it is equipped with a folding chute. "As the ideal addition to its RS 45090, Getecha also provides a side bypass hopper to feed through long parts. This saves us having to purchase another granulator," explains Bernhard Lechner.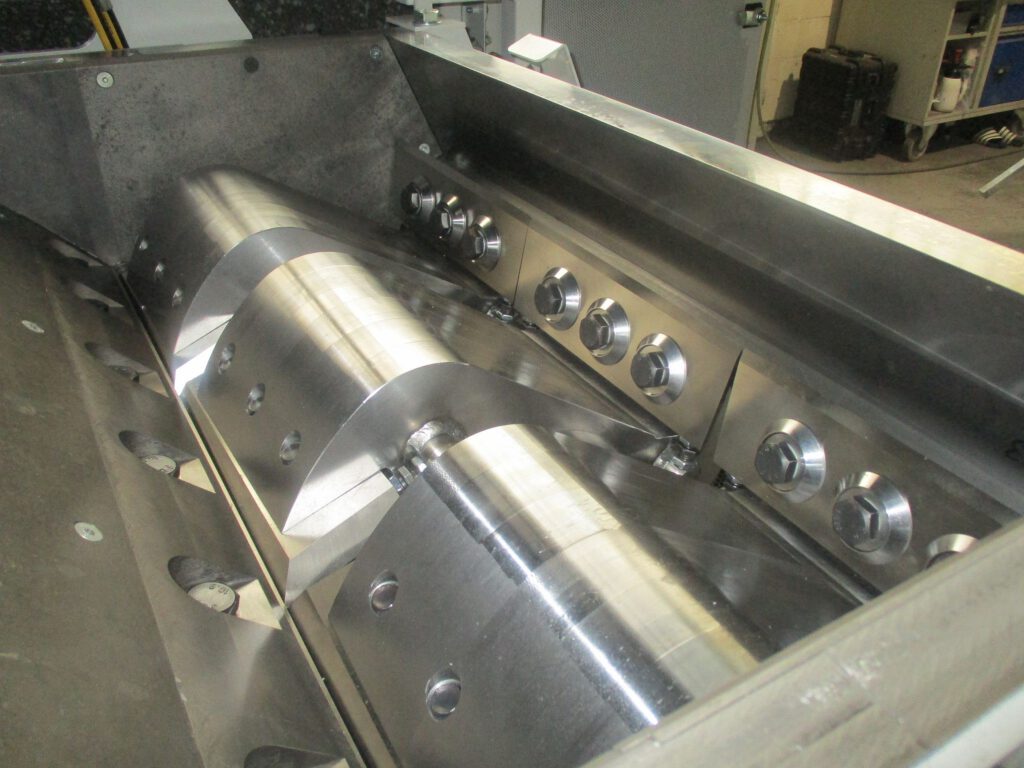 The grinding chamber of the RS 45090 features a solid triple-blade rotor with oscillating weight and additional third stator blade. This robust configuration improves the processing of heavily ribbed components and prevents the material remnants from dropping too deep, significantly increasing the overall efficiency of the granulation process. The inside of the hopper and the granulator housing have a quality feature in common: both are equipped with hardened wear protection plates, which can be replaced when worn.
Another important aspect in this case was the integration of the new hopper granulator into the existing disposal/cycle processes at the customer factory. To ensure the use of an independent and self-cleaning vacuum conveyor station, Getecha engineers modified the suction tub of the RS 45090 and equipped it with a fill level sensor. This guarantees optimum material feed and prevents malfunctions due to overfilling.
The fact that the screen carriage and hopper covers can be opened using an electrohydraulic mechanism also turned out to be a considerable advantage when it came to easy care and maintenance of the granulator. "It is extremely user-friendly and reduces routine cleaning times," explains Bernhard Lechner. And let's not forget that the RS 45090 from Getecha has a state-of-the-art load-controlled – and therefore extremely energy-efficient – 45 kW drive with built-in overload protection.
Ultrasonic sensors monitor fill level
At the supplier based in Bad Vöslau, Austria, there are positive signs of growth, not only in the manufacture of injection moulded parts, but also in thermoforming. In this area, the company is using vacuum moulds to process PET and compound films with thicknesses up to 2.50 mm for large-scale production parts – for example, for customers in packaging technology and microelectronics industries. To dispose of scrap web and faulty parts in these areas continuously and efficiently, Lechner opted for the RS 30090-E infeed granulator from Getecha. It has been designed and sized so that it can also process scrap material and hybrid films together with cardboard packaging with sufficient capacity for higher material output. "With a diameter of 192 mm, the infeed rollers easily tackle even the granulation of films – including products – with a draw depth of more than 150 mm," confirms Markus Schinabeck, Getecha Area Sales Manager, responsible for Austria and the Eastern European market. The granulator also has a faulty parts hopper for other scrap and reject parts.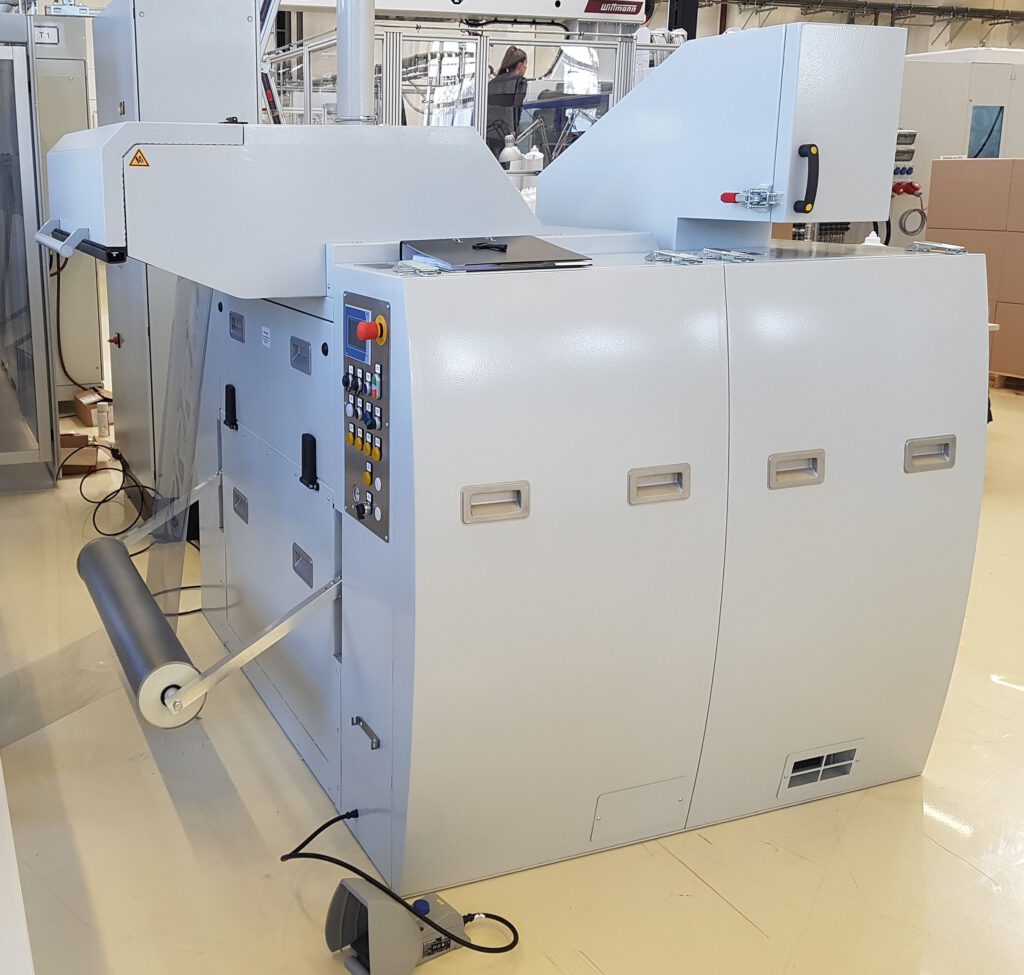 The hourly throughput rate of the RS 30090-E infeed granulator from Getecha is up to 670 kg. This volume of material is handled by a frequency-controlled, water-cooled 30 kW drive. Fully automatic adjustment of the infeed speed guarantees continuous operation matched to the timing cycle of the film processing system. To also ensure optimum integration of the infeed granulator into the process environment at the customer site, Büchler service engineers carried out on-site installation of all system components and connections, fine adjustment of the control system and operational handover with employee training. This included the realisation of a conveying pipe, routed at heights of three to five metres below the hall ceiling. Bernhard Lechner explains: "Directly next to the infeed granulator is a pressurised fan. This uses a cyclone to transport the ground material over a section of almost 40 metres to a dual big bag station with dust extraction and fill level monitoring with automatic switching between the big bags. As the conveyor section is routed inside the production hall, we have made efficient sound insulation a priority."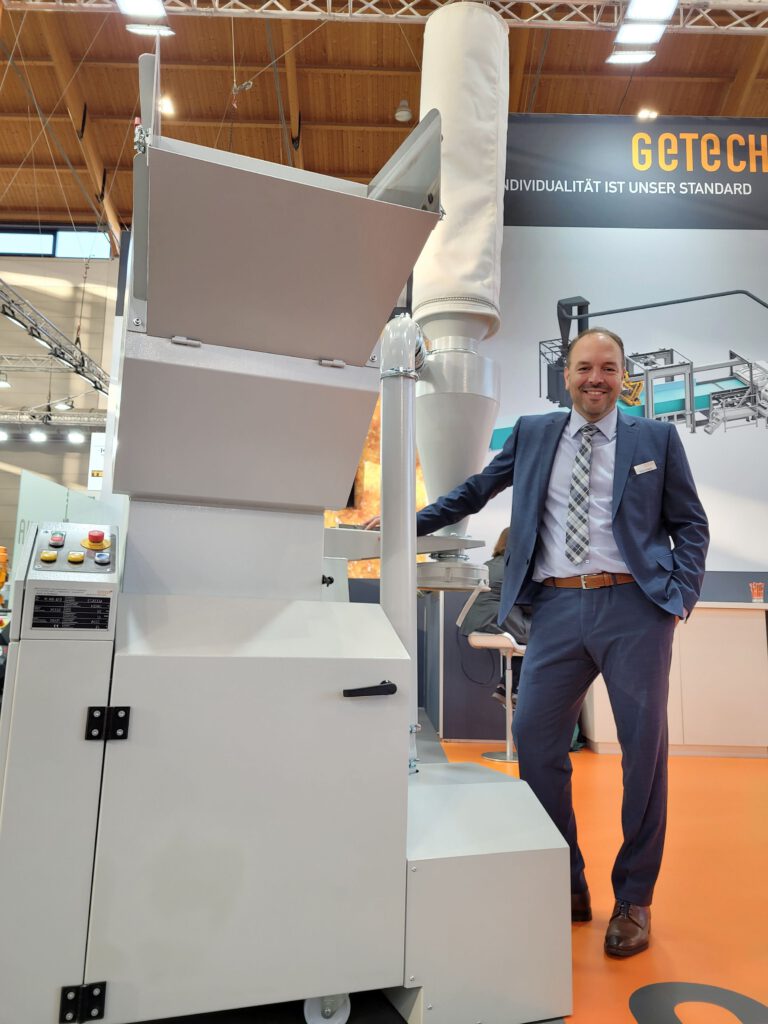 The use of Getecha granulators at Lechner highlights once again that, these days, it is no longer simply a matter of delivering the granulation machines. Almost always, the application-specific design and configuration of the granulators and their optimum integration into the customer's process and disposal-related peripheral systems are of key importance. "We rely to a large extent on a practical and flexible combination of engineering and services, as realised with our Austrian sales partner Büchler," emphasises Markus Schinabeck.