Visit us at our booth 9A09 in hall 9 !
As developer and manufacturer of modern granulation and processing plants, Getecha is one of the leading system integrators of the plastics and recycling industry. Based on the hopper and infeed granulators from its rotary cutter machine range, the company realises mostly automated complete solutions including project-specifically configured feed-in and discharge technology. At the K in Düsseldorf (19 – 26 October 2022), Getecha will use numerous exhibits to provide information on how processing waste from the injection moulding, extrusion, thermoforming and blow moulding technology can be efficiently granulated and reused whilst saving resources.
"The realisation of project- and customer-specifically designed granulation and recycling solutions for plastics processors and recycling plants forms the core of our competencies. At this year's K Trade Fair, we will use our exhibits to demonstrate what this means specifically, and to what extent we can automate processes here", says Eva Rosenberger, Sales Manager and shareholder of Getecha. The company will welcome the visitors to the fair in Hall 9, Stand A09, where it will demonstrate which services it now covers as plant engineering company, system integrator and engineering partner. Six different granulations solutions will be at the centre here, which are used in injection moulding, extrusion, thermoforming and blow moulding technology, as well as for the processing of post-consumer waste.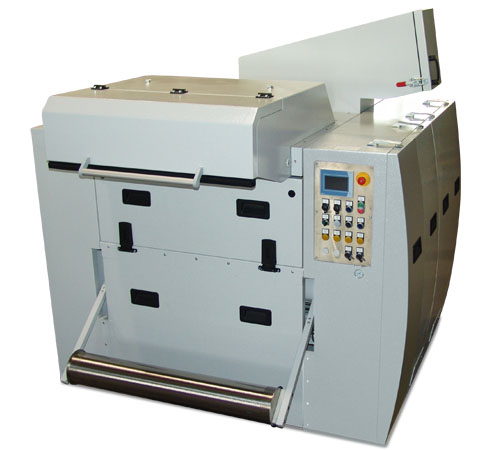 Feeding in and granulating blanking skeletons
As the infeed granulators of the RotoSchneider generation from Getecha prove themselves in many areas of plastics processing, the company will present an RS 30090-E amongst others at this year's K. It is used as high performer of material processing for granulation of blanking skeletons in thermoforming. At the trade fair, it will be shown with a knurled infeed and a self-adjusting floating roller control system (dancer); however, it can optionally also be equipped with other infeed systems, such as an automatic speed control. "The large infeed rollers also enable the infeed of non-punched parts including the blanking skeleton foil, and with an additional faulty part hopper, the granulator can also receive malformed parts from production," says Eva Rosenberger.
Thanks to an all-round sound insulation, the RS 30090-E shown at the K is suitable for production-related use. It has a powerful three-knife rotor and a drive power of 30 kW. For the granulation of temperature-sensitive plastics, Getecha additionally equips them with water cooling. "With this rotary cutter, the user gets a state-of-the-art compact and highly efficient granulation solution", says Eva Rosenberger.
Efficiently granulating large containers
Getecha will present a rotary granulator RS 38060 A with a drive output of 22 kW as granulation unit for blow-moulding plants at the K. This is a universally usable central granulator, whose trade fair version is designed for the granulation of containers of up to 60 dm³ and their flash. It has a large feeding hopper and presents itself to the user as exceedingly maintenance-friendly solution, as its screen carriage runs on rollers and can be extended completely and easily without tools. "Further advantages of this granulator are the optimally adapted rotor as well as hand hydraulics, with which the hopper can be easily opened", says Eva Rosenberger.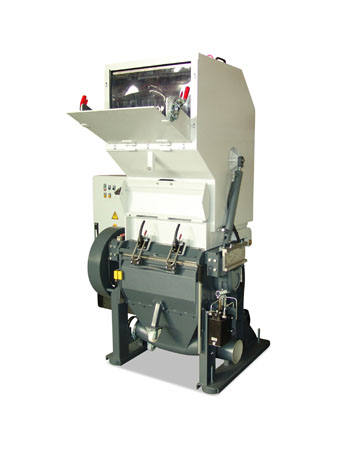 Premium solutions for injection moulders
A universal premium solution for the granulation of sprues and faulty parts from the injection mould is the beside-the-press granulator GRS 180, which Getecha will present at this year's K. With its 2.2 kW drive and an hourly throughput of up to 35 kg, it sets a standard for the granulation of small to medium volumes. It is smooth and sturdy, and is currently used in more than 500 customer-specific designs. The GRS 180 is also suitable for productions that are subject to strict hygiene and cleanliness requirements, as it barely releases any particles (<1.0 µm) thanks to its integrated extraction system and optimised sealing technology. Furthermore, the feeding of sprues and scraps without splash back is possible with a special hopper with automatic dual slide valve. This gateway function can be adapted to different cycle versions by means of an integrated control.
Similar to the GRS 180 in terms of equipment and options is the GRS 300, which Getecha will present at the K as an example for a large beside-the-press granulator, which can also be used as a central granulator. With a 5.5 kW drive, it achieves an hourly granulation performance of up to 80 kg and is also available in different designs. It can be found at the fair as version for manual loading, where the ground material can be filled into a collection container below the system on customer side. "The GRS 300 is equipped with a wear protection package, which makes it possible to granulate even highly abrasive materials," says Eva Rosenberger.
Guillotines and foil cutters
Representative for its range of guillotines, Getecha will present a GH 300 for the coarse crushing of edge trims from extrusion at the K. It is equipped with a frequency converter, with which the number of strokes can be adapted to the line speed. The GH 300 can be positioned below the cooling zone of the extrusion line by means of quickly adjustable racks. The size of the inlet is 300 x 20 mm.
Lastly, the plant engineering company from Aschaffenburg in Germany will present the FS 200 at its trade fair stand as representative solution for its range of powerful foil cutters. It is suitable for the space-saving, quiet and low-dust granulation of edge trims and chips made of plastic, paper and alternative materials. The robustly designed FS200 has an up to 0.02 mm narrow die clearance and – depending on the application – two or four blade rotors. Directly installed in the pipe, it can be operated with or without screen. It is used for infeed speeds of up to 1,000 m/min.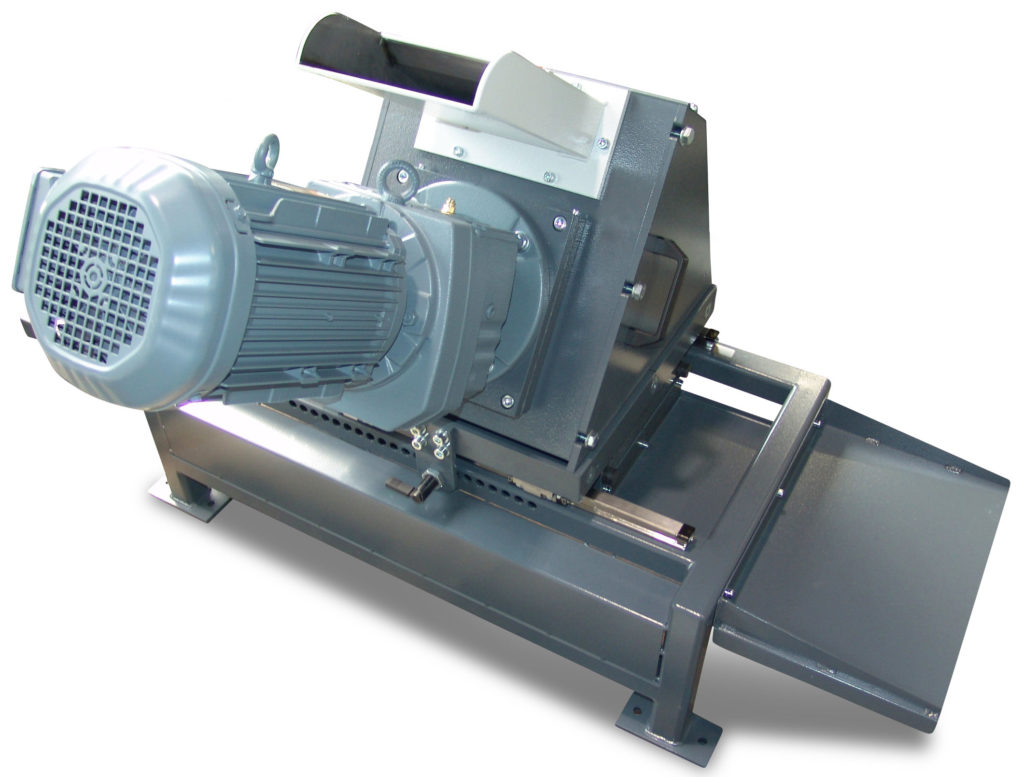 Energy efficiency and availability
As will be seen at the K trade fair stand of Getecha, the company equips its granulation machines with a focus on projects and customers, with intelligent information and communication functions at Industry 4.0 level. For example, thanks to state-of-the-art sensor and interface technology and the use of established fieldbus systems, all important machine data can be documented, processed and visualised. This improves monitoring, increases availability of the production line and provides an overview of the system's energy efficiency. Regarding energy efficiency: If desired, Getecha also uses drive technology of energy efficiency class IE 4 (the standard is IE 3). "Furthermore, by using our EnergySave system, the efficiency of the used three-phased current asynchronous motors can be optimised – without affecting the speed. Here, the current spikes and mechanical loads are reduced in the start phase, while the energy consumption decreases under partial load operation and when idling", Eva Rosenberger explains.