In film and plate extrusion, particularly tough edge trims come up every now and then, which cannot be deflected and can only be granulated to the desired target size at the level of the extrusion line. To condition this material for processing in hopper granulators as efficiently as possible, it must first run through the process step of coarse crushing. Adapted to this, GETECHA supplies a range of powerful foil cutters and choppers, which has now been extended by a new hydraulic guillotine for extreme process requirements.
The German plant engineering company GETECHA has developed a new hydraulic guillotine for the coarse crushing of extrusion waste, whose performance is designed for the processing of very solid, dimensionally stable and thick leftover pieces under low infeed speeds. It has the type designation GH 300 HYD and is the new top model in the chopper range of the company. With drive outputs of up to a total of 15 kilowatt, it is recommended as effective solution for particularly demanding tasks of coarse crushing, where continuous cutting is not possible or electrically operated guillotines reach their limits. "The performance of the hydraulic unit of our new chopper is spread across 2 x 7.5 kilowatt for two cylinders, which provide the two blades of the system with particularly powerful feeds with torques of up to 200 kN. The GH 300 HYD reliably cuts through several centimetres of POM and HDPE residues from plate extrusion with this – depending on the application continuously and discontinuously with up to five scissor-cuts per minute", Christine Rosenberger, Managing Director of GETECHA explains. When coarse crushing such solid material strands, violent shocks and jamming of the material in the cooling off and trimming line must be avoided at all costs. For this reason, these hydraulic choppers are installed on linear guides. This way, the guillotine GH 300 HYD can operate as a floating installation during cutting at the feed level. This ensures smooth, continuous material flow, protects against shocks on the upstream extrusion equipment and enables realisation of customer-specific cutting lengths.
Christine Rosenberger :"Thanks to new design and hydraulic unit, our new guillotine GH 300 HYD achieves individual section lengths with up to five scissor-cuts per minute, even for several centimetre thick POM and HDPE edge trims from plate extrusion."
Three systems and many versions
With the hydraulic guillotine, GETECHA is extending its range of coarse crushers to now three chopper series in different performance classes. For the two electrically driven GH 200 and GH 300, as well as the new GH 300 HYD, it is vital that all important system parameters can always be designed project- and customer-specifically. All three guillotines share the feature of crushing in accordance with the scissor-cut principle, with one moveable and one fixed blade each. While for the small, compact GH 200, a 2.2 kilowatt drive (optionally also frequency-controlled) provides between 60 and 100 cuts per minute, with a maximum width of 200 mm, the GH 300 (HD) with 3.0 to 7.5 kilowatt can carry out approx. 30 to 70 cuts/min., at widths of up to 300 mm. The standard version can already tackle material thicknesses of up to 20 mm. "All crushers of the GH series can always be customised to the specific demands of the user with regard to drive output as well as cutting angle and system configuration. The new hydraulic guillotine is no exception here", says Christine Rosenberger.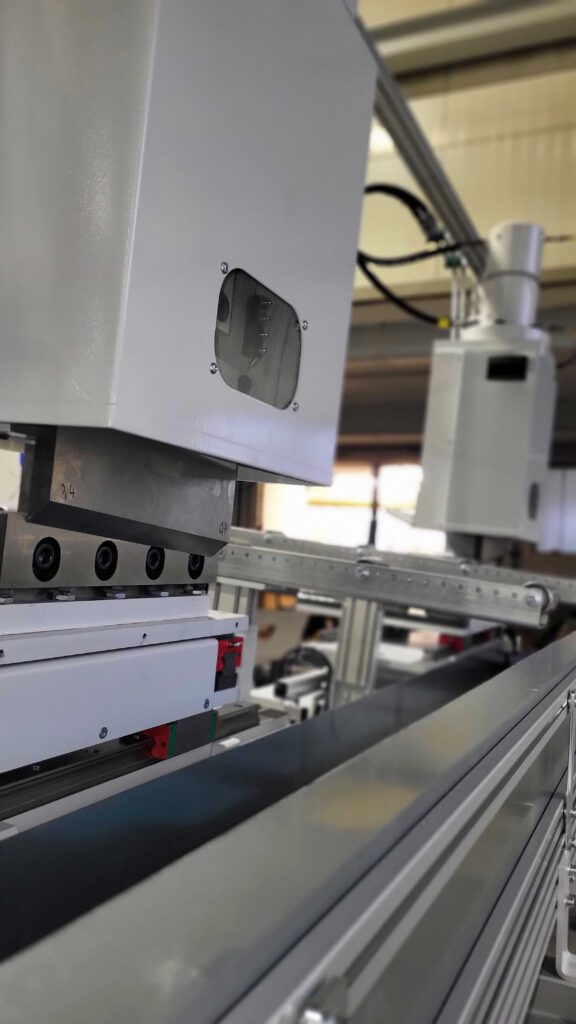 Quit and efficient
In practice, the material strand intended for coarse crushing is usually deflected below the conveyor line behind the extrusion line following the longitudinal cut, and fed to the hopper of the guillotine. Its moveable blade then quickly cuts the strand into the desired cutting lengths, which usually occurs without too much noise. The pre-granulated material then falls down from the system onto a discharge conveyor belt or a collection container. From here, it can be directly fed to a hopper granulator for further processing, where it is granulated to the desired target size. To make them easily accessible and safe and optimally adapt them to the width of the extrusion line, the guillotines of the GH series from GETECHA are usually mounted on an adjustment unit. For secondary grinding, the company's RotoSchneider series provides a large selection of hopper and infeed granulators in different sizes and performance classes.
The new GH 300 HYD from GETECHA behind an extrusion line with transversally discharging conveyor belt.
Granulation of thin residues
While the choppers from GETECHA are used for the coarse crushing of more or less thick material residues from plate extrusion, the large domain of the company's foil cutters is the granulation of thin edge trims and chips from plastic foil, paper, textiles, fleeces and similar thin materials. Here, the FS 200 as well as the FS 300 are designed for installation in pipe systems, where they process the material fed at infeed speeds of up to 3,000 m/min. Typical for the FS series from GETECHA are an open rotor, rotor speeds which can be tailored to customer's needs (600 l/min up to 2,000 l/min) and a blade gap between rotor and stator blade of only 20 µm, which enables reliable granulation of even very thin edge trims. Depending on the application, the foil cutters can be equipped with two or four blade rotors, and operated project-related at operating air currents of up to 6,000 Bm3/h with or without screen.
Intelligent and efficient
Just like its hopper and infeed granulators, GETECHA also equips its coarse crushing systems project- and customer-specifically with smart information and communication functions at Industry 4.0 level. With granulators from the rotary cutter range, for example, thanks to state-of-the-art sensor and interface technology and the use of different fieldbus systems, all important machine data can be documented, processed and visualised. This improves monitoring, increases availability of the production line and provides an overview of the system's energy efficiency.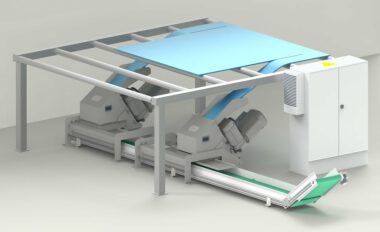 GH systems of the 200 and 300 series fromGETECHA during granulation of edge trims below the discharge roller conveyor of an upstream extrusion line.