As soon as granulators are to be integrated into the automated processes of plastics processing, planners and automating companies start to also focus on their information- and communication-related integration. For this reason, Getecha increasingly equips the larger central granulators of its rotary cutter series in particular with intelligent Industry 4.0 functions.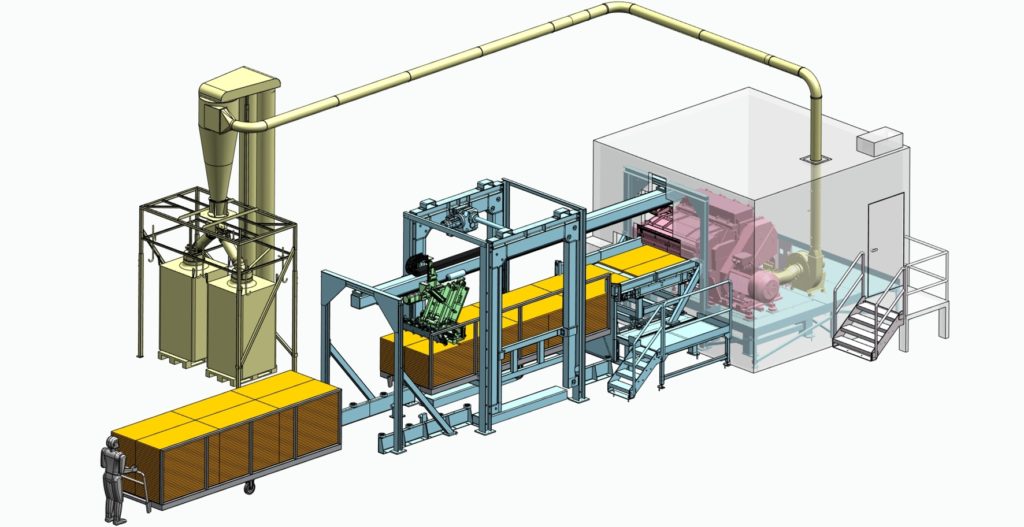 Granulation of large polypropylene panels: By now, Getecha equips above all its complex granulation machines including integrated feeding devices, grippers and exhaust systems with a multitude of Industry 4.0 functions.
Many automotive suppliers, numerous packaging material producers and some component manufacturers are in on it: The process-related integration of granulation technology is progressing in many places at a fast pace in injection moulding, extrusion, blow moulding and thermoforming lines. For this reason, the granulator manufacturer Getecha started early on to equip its hopper and infeed granulators of the rotary cutter series with intelligent information and communication functions according to Industry 4.0 criteria. "The Industry 4.0 features gain in importance in particular when integrating our large central or beside-the-press granulators into the automated processes of plastics processing by means of conveyors, tipping devices, filling stations and other peripheral systems. They not only serve continuous system optimisation, but also support quality assurance, enable improved monitoring and increase availability of the entire production line", says Burkhard Vogel, Managing Director of Getecha
Recording, transmitting, analysing
The specific requirements of a project and the customer's objectives always determine which Industry 4.0 features and functions the plant engineering company chooses to equip its granulation solutions with – i.e. granulator plus feed-in and discharge periphery. A great deal is possible. As Getecha pulls out a lot of stops of modern sensor and interface technology here and also uses a number of established fieldbus systems, all important process and machine data can be read, documented, processed and visualised. For example, all statuses, actions and fault events can be recorded and assigned by means of the signal exchange between granulator and production line. Based on this, critical situations can be reported early to the higher production control system with defined warning levels, which then triggers the respective countermeasures and corrective measures. In addition, there is the option to record all production-relevant performance parameters and material key figures – e.g. on the throughput achieved or on the quality of the ground material – to archive and transmit them to the BDE or MDE systems of the plastics processor for further evaluation. This also applies to the runtimes, the energy consumption, achieved performance peaks and many other parameters. It can also be arranged that all system messages are communicated to the master computer and archived here for analysis and documentation. "All this creates maximum transparency with regard to the performance of an automated system, and provides fundamental data for the realisation of continuous process and quality improvements", Getecha's Managing Director Burkhard Vogel explains.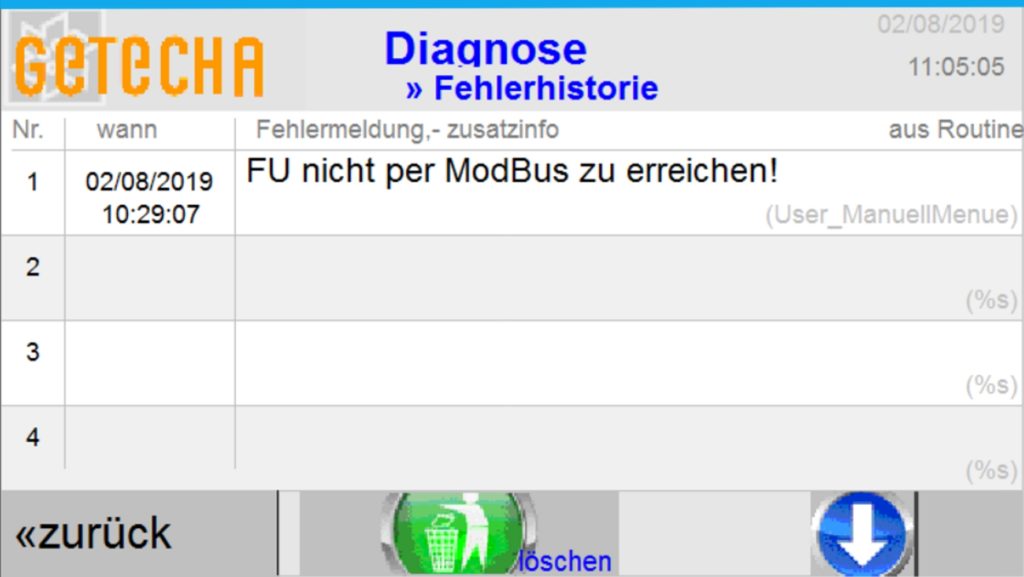 Fast error detection: Error messages and error diagnoses communicated via remote maintenance are part of the Industry 4.0 range of functions from Getecha.
Visualising, preventing, maintaining
A large proportion of the data material processed by means of the signal exchange between production line and granulator also forms the basis for further Industry 4.0 functions, which enable the so-called predictive monitoring and thus increase system availability. For example, the recorded information can be processed for the preventative, predictive maintenance, and then requested via the remote maintenance tool from Getecha. The granulators can be networked for this purpose and integrated into the MRO infrastructure on customer-side (MRO = Maintenance, Repair, Operations). What's more, the information gained in this way feeds into the troubleshooting catalogue of the integrated "manual" of the rotary cutter granulators, which can be visualised by the master controller of the production machine.
Press release August 2019
Industry 4.0 / plastics technology / thermoforming / granulation technology / material flow